Hello!
I am a Sr. User Experience Researcher at Synaptics. My work is situated at the intersection of Human-Computer Interaction and Human Augmentation. I design, implement and study novel input technology in the areas of mobile, tangible & non-visual interaction, assistive augmentation and automotive UX.
Beyond code & electronics, I am in to guitars, volleyball and cooking. I am a bike nerd, so-so photographer and snowboard newbie.
Sep 27 Paper on steering wheel force input, SID Vehicle Displays 2016.
Jun 30 Talk on Assistive Augmentation at UX Schweiz, ETH Zurich.
Apr 01 Benjamin joined as UX design intern for this Summer, hooray!
Mar 14 I will act as demonstrations chair for ACM C&C 2017.
Feb 08 CHI 2016 automotive LBW on ForcePad accepted.
Recent Publications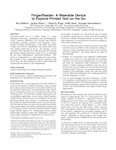 FingerReader: A Wearable Device to Explore Printed Text on the Go
Shilkrot*, Huber*, Wong, Maes and Nanayakkara
Full Paper. In Proceedings of CHI '15. [* equal contribution]

EarPut: Augmenting Ear-worn Devices for Ear-based Interaction
Lissermann, Huber, Hadjakos, Nanayakkara and Mühlhäuser
Full Paper. In Proceedings of OzCHI '14.

A Research Overview of Mobile Projected User Interfaces
Huber
Journal Article. Informatik Spektrum. 2014.

Permulin: Mixed-Focus Collaboration on Multi-View Tabletops
Lissermann, Huber, Schmitz, Steimle and Mühlhäuser
Full Paper. In Proceedings of CHI '14.